What is Proactive Customer Service? – Importance, Advantages, and More
Just Tech Web, 10 months ago
5 min

read
450
What is Proactive Customer Service?
Proactive service means predicting customer problems and taking the initiative. It's about identifying and solving customer problems before they become something more significant.  Proactive customer service can take many forms, from forums, help centres, FAQs, and how-to videos.
Some examples of proactive support can be a chat or video conferencing service that allows real-time support, an FAQ section or explanatory videos, webinars, or workshops that help educate the customer.
Importance of Proactive Customer Service
A proactive approach to customer service makes a business productive and reaps many benefits, including:
Improve customer loyalty: Companies that use a proactive approach improve their customer retention rate.
Reduce support requests: With a proactive approach, problems are known and targeted using customer acquisition tools before their need becomes a problem. In the long run, the number of request tickets is reduced.
Conversational engagement across multiple channels: Customers like to share their experiences on social media. With a proactive approach, you can engage in the conversation and engage with them in a way that puts your company in the spotlight.
Most customers are happy when companies proactively contact them regarding customer support issues.
Advantages of Offering a Proactive Customer Service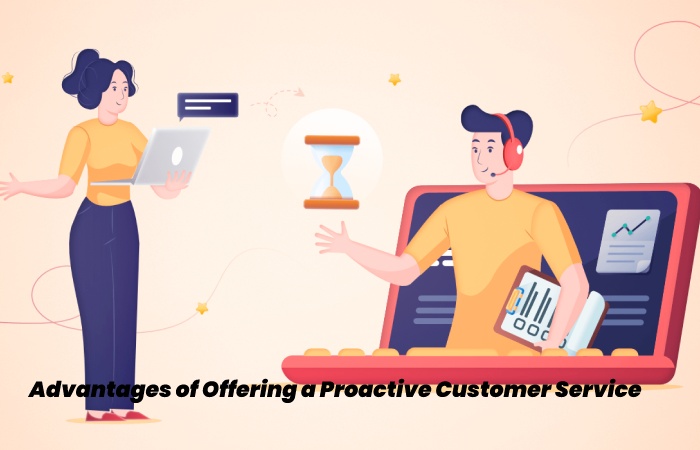 The proactive approach offers ample opportunity to meet expectations, build loyal relationships and delight the customer.
If you still can't decide between reactive and proactive customer service, here are some of the benefits of bold support you can get as a business:
Retain loyal customers: By being proactive with your customers, you strengthen the relationship between the customer and the company. With more and more clienteles turning to social media for customer service, you have to stay one step ahead to meet their expectations of good service.
Develop brand advocacy: With proactive support, you make customers happy, but they also become brand advocates. The proactive approach, which puts the customer first, helps create substantial trial brand equity.
Acquire new customers: You recommend it to your friends when you like a brand. The viral effect of word of mouth helps to acquire new customers. The proactive support approach helps you reach potential customers and encourage them to stick with your brand.
Also Read: How to Build an Authentication Flow with React Navigation v5?
How to go from a Reactive Customer Service to a Proactive One?
After some features of reactive and proactive customer service, we hope that we hope that you have decided on the latter. If so, you will need a series of customer service tools.
We share five tips to move from a reactive approach to a proactive one:
1. Plan a Customer-Centric Strategy
Customer-centric strategy is the critical ingredient of effective customer service. It means offering a great customer experience by proactively guiding them throughout the purchase and post-sale.
The best practice for being a customer-centric company is planning and employing a well-crafted customer strategy to create a profitable and loyal customer, And also. It is essential to understand what the customer wants and use the data to gain insights about them.
Using the right tools: To understand customers' behaviour throughout their journey, various tools are used, such as marketing, feedback, live engagement, sales, etc. Tools such as video chat help to understand the customer's query and problems in real-time and
2. Offer a Real-Time Customer Service on all Channels
Customers choose preferred channels, such as the website, social networks, Facebook Messenger, etc., to connect with you. Attract your customers through the most comfortable media and provide Omnichannel customer service.
Offer real-time assistance to your website visitors and live chat. You will obtain valuable information through the analysis of the clients, and you will know their behaviour, And also. This helps trigger the right message at the right time and give your customers the best Omnichannel customer experience.
3. Personalize your Communication
Customers always expect companies to understand their needs and provide relevant and desirable information and solutions.
Personalized communication often sets the tone for future relationships. Interacting with customers through their preferred platform in real-time puts customers at ease. It also builds trust in your make and improves the quality of customer service.
Clients do not value companies that do not make an effort to communicate in a meaningful and pleasant way.
Tips for Implementing Good Proactive Customer Service
Implementing service orientation is a combined effort involving your team, customers, and company. Here are three tips for implementing this approach.
Know your Customers
Before you start forestalling your customers' needs, you need to get to know them, And also. If you don't distinguish who they are, what they need, or what problems they experience, you'll never be able to support them proactively.
Get a Good Team
If your team is not absorbed in serving the customer, cares about the customer, and is not focused on this new approach, you can fail before you start.
The true power of proactive customer service solutions will work best with a strong team behind it, and that doesn't just include your support staff, And also. Everyone in the organization has knowledge and experience that can be used to create proactive service orientation initiatives.
Also Read: Internet Marketing Business BizLeads Virtual Summit-2022
Make a content library
The manuals frequently ask questions, and tutorial videos are the answer to the question. What a respite it is to find the answers before calling to ask. Make sure you have the proper channels so that your customers can solve their doubts by themselves.
Channels like
Customer service must be proactive
Proactive customer service is based on action.
This service differs from reactive, traditional, or passive customer service that only interacts with the consumer or user when they contact on their initiative.
Proactivity entails anticipating, informing, investigating, and acting on your own without waiting for the client to take the first step. Ultimately, proactivity denotes action.
Conclusion
Proactive service orientation improves the customer experience, And also. The customer service team must contact consumers even before they have a problem, worrying about them just like a love relationship in its first years of ardour.
A good example is this strategy "Amazon anticipates questions about delivery dates and times, And also. So instead of waiting for customers to call to ask about their late deliveries, they let you know the new delivery date."
Also Read: How to Build A NFT Fashion Marketplace?
Related posts