Konnect-I Slim Backpack with Jacquard By Google
Just Tech Web, 8 months ago
5 min

read
336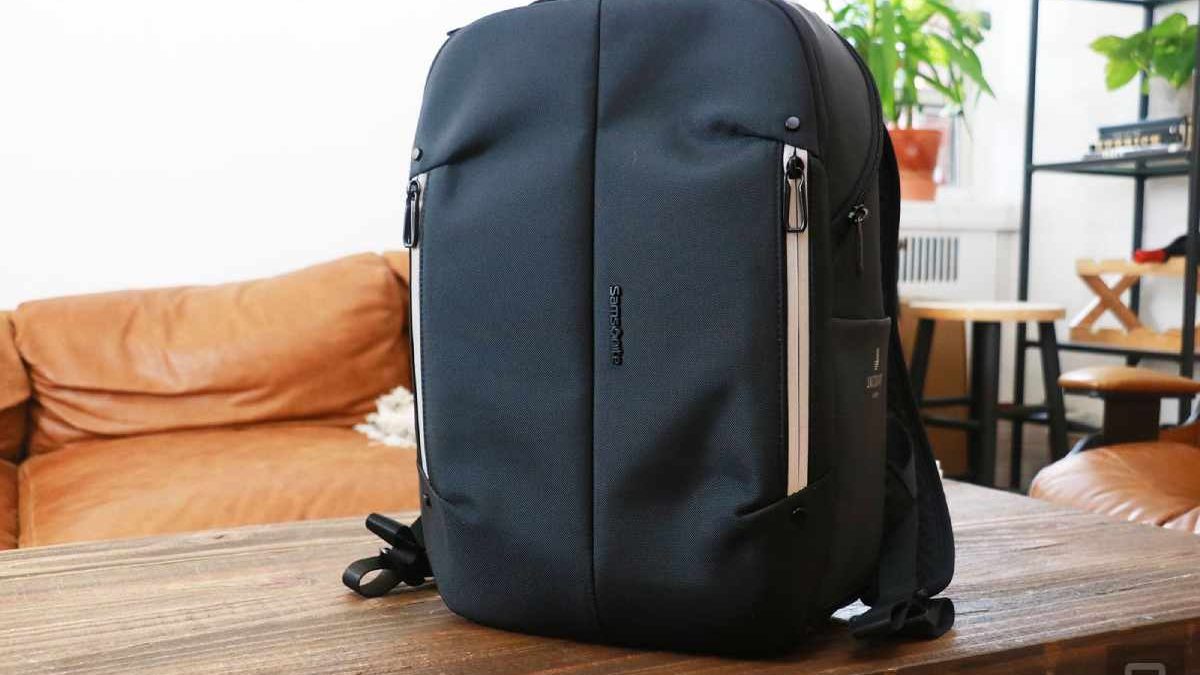 Introduction
The Konnect-i Slim Backpack with Jacquard by Google is a daily wise bag that connects to the user's smartphone. Making getting around city streets easier than ever, this bag allows users to perform actions and receive alerts while on the go.
Google's Jacquard tactile fabric technology continues to spread, with the new Samsonite Konnect-i backpack incorporating gesture recognition right into the strap. Jacquard is a subtle but clever addition to what is otherwise a reasonably understated bag, capable of remotely controlling your phone with taps and swipes. Read on to find out what works and what doesn't work yet.
These capabilities and signs include audio-related tasks such as play, pause, next track, and what's playing, and communication, including receiving phone calls and text messages. The smart feature also makes navigation easy, with features like estimated arrival times and orientation. Dropped pins and saved locations are also available. The app can activate a phone's camera without stopping there.
Konnect-i Slim Backpack
Konnect-I backpacks come in slim and standard styles, although both have the same Jacquard technology built-in. But Konnect-I slim backpacks are a little better.
Google introduced Jacquard in 2015 before finally seeing it launch as a tactile patch on Levi's denim jacket. More recently, Google partnered with Adidas for its smart insole.
The Jacquard-compatible Konnect-i, a slim backpack panel, is on the left shoulder strap. The tactile fabric remains connected to a Jacquard module, which requires charging (micro USB).
Once the module is connected, you can use one of four gestures: brush up/down, double tap or cover. Using the mobile app for Android or iOS, you can assign commands to these gestures. What commands? Google says you can "program Jacquard to send call and text notifications, trigger a selfie, control your music, or prompt Google Assistant to share breaking news."
Konnect-I Slim Backpack With Jacquard By Google
Although they may look like regular backpacks, the left strap unlocks many capabilities. Using your Jacquard app, you can customize the gestures that control the actions. For example, you can program Jacquard to send call and text notifications, trigger a selfie, control your music, or ask Google Assistant to share the latest news. For an added level of interaction, the LED light on your left strap will light up based on the alerts you've set.
It is just the beginning of the Jacquard platform, and through updates, you can expect your Jacquard Tag equipment to improve over time. Just as Google wants to make the world's information universally accessible and helpful, at Jacquard, we want to help people access information through everyday items and natural movements.
Samsonite X Google Jacquard Backpack
Google is one of the few tech giants to have dabbled in fashion, fusing its technology with iconic fashion pieces.
Project Jacquard, from Google's ATAP (Advanced Technology and Projects) lab, is a collection of conductive yarns for weaving touch-sensitive textiles like clothing, tablecloths, rugs, or anything else made of cloth.
With gesture recognition technology built into the strap, the user can remotely control their phone through taps and swipes.
Two Modern Styles for All Travel Needs
The Konnect-i backpack is available in two variants: a slim backpack, complete with a vertical zipper, and a standard backpack, with a horizontal zipper. Both styles offer quick and easy access to digital services on the go, thanks to Jacquard technology that integrates directly into the wristband.
Samsonite Jacquard Backpack Cyberpunk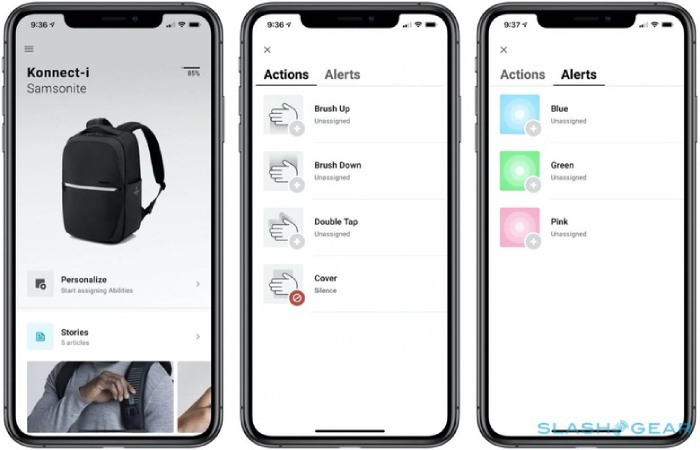 Running the brush across the sensor strip, for example, can skip music, fast-forward a track, or answer a call. Touching it could announce what's playing while holding your hand over the sensor strip could launch the assistant. You configure all of this in the Jacquard app, which is available for Android and iOS devices.
There's an LED, a subtle vibration to indicate when a gesture has to remain recognized, and three flashing LED colours (blue, green, and pink) that can be assigned to notifications like VIP calls and texts if your bag is separate from your landline. Or when your carpool is about to arrive.
Users on the go will still be able to receive alerts and quickly perform tasks on their smartphones. These abilities and signs include audio-related tasks, such as playing and pausing, and communication, including receiving phone calls and text messages.
Smart Backpack
The Samsonite Konnect-i Backpack is a smart backpack for travel or short trips. There are two versions: a standard one and a slim one. The slim model is thinner and has two vertical pockets, while the standard version contains additional pockets on the front.
Both backpacks have plenty of pockets for storage. Inside they almost look like school bags. There are plenty of dedicated slots for pens and business cards and mesh pockets for sundries you may need to take with you. The main pocket is almost empty except for two smaller pockets. The back pocket can hold a laptop and a tablet. At the top is a zippered pocket for sunglasses and other small personal items.
Conclusion
Konnect-i Slim Backpack with Jacquard by Google is very useful for everyone. It has excellent features which remain used easily. An Internet connection, a compatible Android or iOS phone, the Jacquard app, and a Google account to access Jacquard features. Data usage charges may apply. Features may vary between iOS and Android. For iOS, you need an iPhone 6 or later with iOS 11. For Android, you need a phone that supports Android 6.0.1 or later.
Related posts